Ko Tao, Thailand in February-March 2012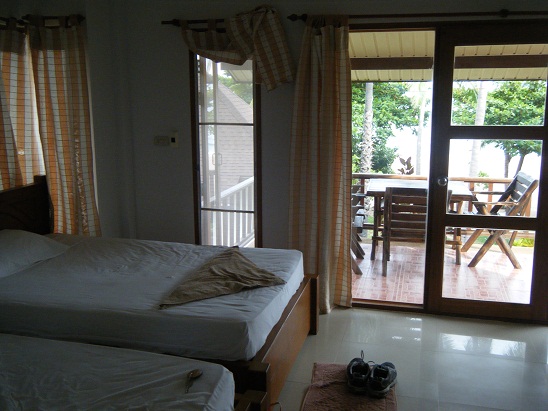 I'm now on Ko Tao (Turtle Island) at the Diamond Resort at Tanote Bay.
I have been held captive by this beautiful, peaceful location for 10 nights now but I plan to break free in the morning and head to another island (Ko Phanagan). I got to Ko Tao by taking a fast cataraman boat from Chumpon to Mae Haad village port. From there I was transported in a 4WD pickup to Tanote Bay over some of the worst / steepest roads available.
I came back to this location because I was here 3-4 years ago and enjoyed myself. Because I came spur of the moment they had none of the cheaper beach cabins available so I stayed the first night in a huge hillside villa with beautiful tile floors, at a discounted price of 1,000BHT ($33.35). The next day I moved to the exact same beachside cabin where I previously occupied for only 600BHT ($20). The beachside cabins are quite nice with a huge bed, fancy curtains, 7/24 electricity, fan, wood & tile floors with attached bathroom, verandah with two deck chairs. The beachside cabin could use some cosmetic repairs but there are no big issues.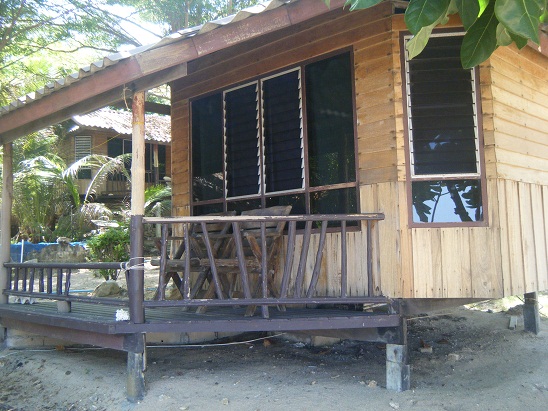 Still lots of mosquitos at dusk so you really need to use repellant or hide in your cabin briefly. One morning a small green snake came down the Palm tree in front of my cabin; after a look at me he turned around and went back into the tree. Another creature they have are "carpenter bees" - they're big bumblebees who make burrows in wood. Unfortunately, one of my deck chairs housed a small colony which entered via a hole in the chair leg.
Diamond Resort now has WiFi internet in the restaurant but its rather unpredictable in nature. The restaurant has a wide varity of dishes available, incluing lots of standard western fare like eggs, toast, pancakes, beef/chicken burgers, spaghetti as well as Thai dishes like fresh juice, curry, fried rice/noodles, squid & fish dishes. Toast with two 2 poached eggs is 65 BHT ($2.15); a beef burger with fries is 150 BHT ($5). The electricity is reliable, except for one odd evening where there were 3 small outages in a row.
For two days we had bad wind and the sea was very rough in the morning with a smattering of rain. The weather improved in the afternoon.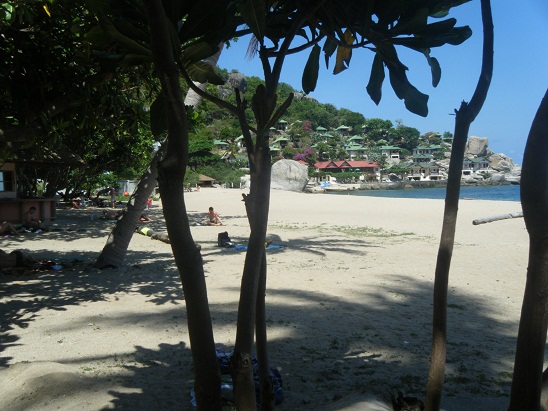 The snorkelling is good here as the seas are very calm and there are no sea urchins. If you're adventurous you can climb onto one of the huge boulders in the bay and "cliff dive" into the ocean.
Tanote Bay has 4-5 "resorts" within its borders. Diamond Resort, where I'm staying is mid-range. At one end is a fancier resort with a PADI dive school. At the other extreme is a place geared towards backpackers with cheap accomodation and music every night.
See this short video I shot one morning.
David Williams
meccanopoker at hotmail.com