Hat Yai & Songkla, Thailand in March 2011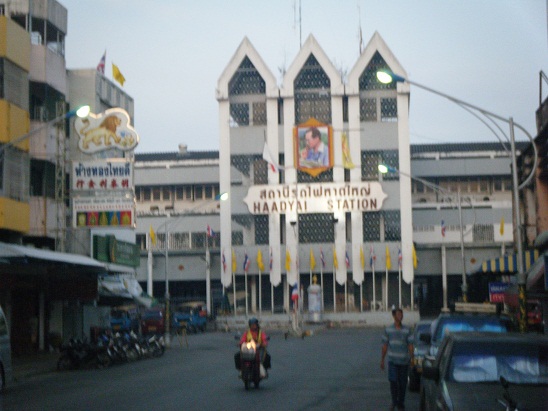 I'm now on the overnight train From Bangkok to Hat Yai, its 10pm at night. When I got on the train I was tired and eventually fell asleep until now. The dining car is closed so I get no supper, apart from the 3 buns I bought in the Bangkok train station before we left.
The Bangkok train station is real neat looking, it was built in the 1920's, and from what I've read they plan to build a new station in a couple years but still presrve the old staton in some way.
I have a 2nd class aircon sleeping berth which is real nice. The seats that many people use (2nd & 3rd class) don't look so exciting as the're getting old and need maintenace.
All the lower berths are in use, most upper berths are empty, they cost $3 less. There's even an elecrical outlet for charging phones, etc.
I had an hour Thai massage in the Bangkok train station, it was nice - 200BHT ($7) well worth it. I took bus 53 to the station but I still had to walk a couple blocks, the excercise is good, I'm much less stiff compared to when I arrived.
One thing that's new is the presence of the fish pool spas (idea from Japan) where you put your feet in the pool and the fish nibble away at your feet. Weird! Maybe I'll try one when I get back to town. I don't remember these from my trip 2 years ago.
As soon as I arrive Im catching a bus to the neighboring town of Songkla for a day or two.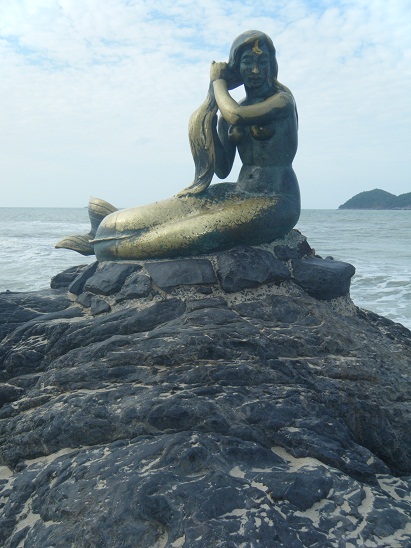 Time to read a book for a while. Maybe I'll fall asleep eventually.
I realized that the train was beind schedule when we arrived at the previous station very late. (I passed up breakfast because I thought that we'd arrive soon. Good diet scheme?)
At Hai Yai I transfered so Songkla and got a room at a cheap hotel, maybe too cheap (200BHT $6.75) but adequate. Its an older place with Thai style toilets, I haven't been in one of these for ages. It was great to have a shower finally. No Internet at the hotel.
I went for a walk and had some curry & rice and then went to the seashore. It was crawling with young school kids on a field trip and they came to talk to the strange foreigner. This beach has two sculptures, one of a cat and rat and another of a mermaid. The sea is quite rough and murky, nobodys swimming. This is not a typical western tourist spot but I did see 4 westerners in town.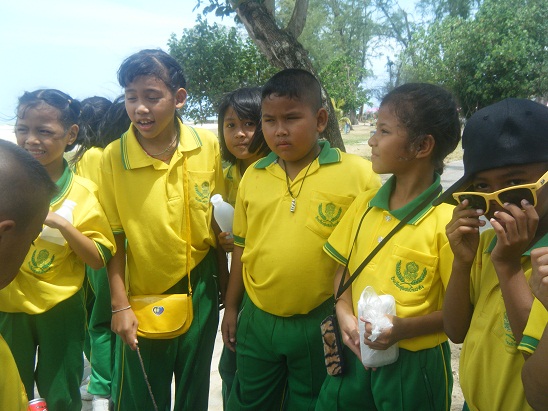 The kids loved the photos of Chocolate's birthday, I wish I had brought the ones with snow. I'm now in a seaside restaurant writing this note. I had a plate of fried squid. I took a motorbike taxi over here, I still find these a bit scary but the driver was cautious.
The next morning I went to Ko Yo which is the huge lake nearby town. The lake is split in two by a very long causeway. I went to the museum and wish I hadn't because it was up on a hill and you had to climb up and down to see all the exhibits. I certainly got a workout! When I got back to town I decided to move on, back to Hat Yai where I got a room at the Cathay Guest House.
I was hungry at this point, all I had for breakfast were two sweet steamed bus at the 7/11. They gave me directions to a nearby dim sum place but I was disappointed to see that it didn't even open until 5pm. I went to a different chinese restaurant and had a plate of seafood fried rice and bitter melon with eggs. Both were yummy.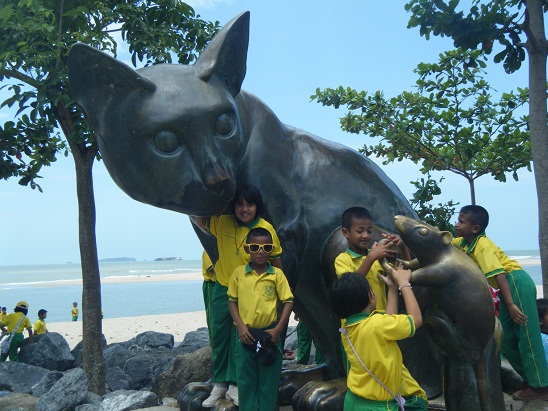 What do I always do when I enter a restaurant? Scan the tables looking for strong chairs. This restaurant had a mixture of plastic/wood chairs/tables so I picked a wood chair. It collaped as I sat on it. Back to two stacked plastic chairs as plan B. Everyone was so concerned that I might have hurt myself, but I was fine.
Im heading back to the guest house now for a nap. When I woke up I went to the dim sum place for dinner. Later I went to "Post Laser Disc", a bar with live music. I plan to stay here another night.
Next stop is Pak Barra, to catch a boat to Ko Lipe.