Ko Phi Phi, Thailand in March 2011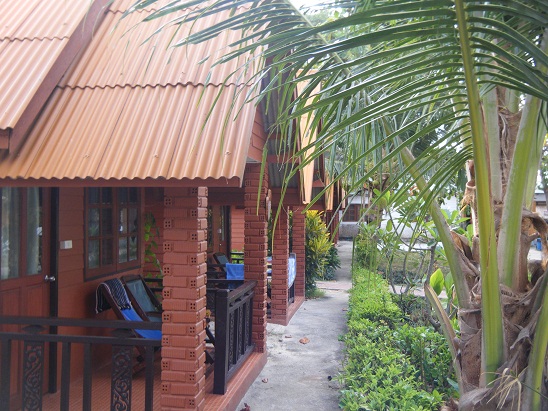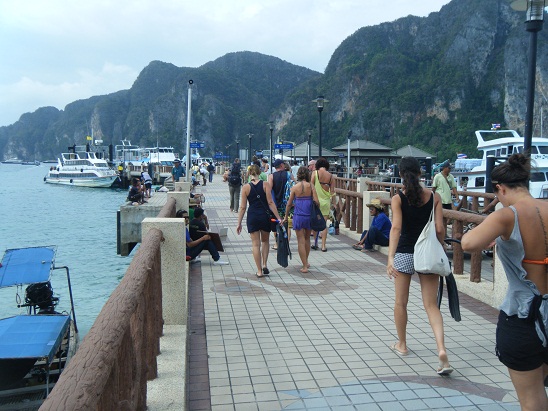 I'm now on Ko Phi Phi at long beach, the journey here took about 3.5 hours with a stop at Ko Lanta to change boats. After 4 nights at Ko Ngai I got bored. I met a lady born in Vermilion on the long tail shuttle boat, she works in Bandung, Indonesia and came here for a holiday. Most tourists here are from Europe.
The weather is cooling and we had afternoon rain yesterday and today. It started raining when I was in the ocean snorkelling this afternoon, the rain seemed very cold.
When I was here 4 years ago I stayed in Tonsai village around the dock but this time I came to long beach instead. Much of the accomodation is more upmarket here but surprisingly I found a good place without AC. Very basic, but its all I need. Ive been avoiding AC at the beach, I don't really think its needed. The first place I checked had rates of 3200BHT ($106) for a fancy aircon room so there's something for everyone.
I'm in a giant dining hall and its surprisingly empty, Where is everyone? I ordered chicken with peanut sauce for dinner but somehow got fish and spaghetti with pesto sauce instead. I would have sent it back but the pesto sauce was so good when I tasted it.
I love this netbook, I still have hundreds of novels to read. Its weird not having to scrounge around for books to read. I'm now gradually reading all of Stephen J Cannell's novels, too bad he died last year.
After 2 nights I moved back to Tonsai village and found myself a fancier room with TV, aircon, hot water, safe, free WiFi, etc.. This is where all the action is, this place is crawling with hundreds of foreigners, mostly young.
From what I can see, it's totally rebuilt now and I can see no traces of the Tsunami disaster.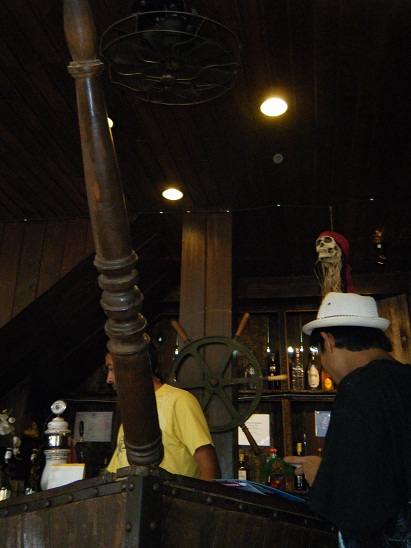 Close to my hotel is a restaurant with a pirate theme, I`m now sitting there editing this web page.
Next stop, take the ferry back to the mainland, catch an overnight bus north to Bangkok and a bus to Trat near the border with Cambodia. I may or may not stop overnight in Bangkok.