Ko Wai, Thailand in March 2011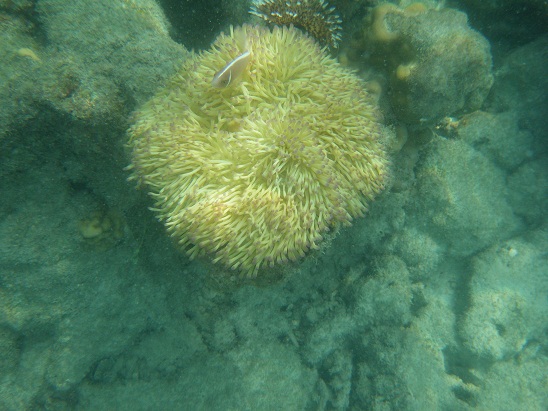 I'm now on Ko Wai at the Ko Wai Paradise resort. I'm staying 2 huts down from where I stayed 7 years ago. The huts are as basic as ever, but now they have an electric light inside the hut at night. As well, my hut (#16) now has a fibreglass roof, I don't miss the musty grass roof. (There are fancer/bigger huts than mine, but were all booked up.) I travelled here in an hour on a speedboat, 7 years ago they only had slow boats. Sometimes they start up the electric generator during the day so its easy to keep my netbook charged up.
Apart from that little appears to have changed. Lots of boats come here from the other islands on snorkelling tours. The day I arrived there was a huge lunchtime crowd from these tour boats. The appeared to be all Russians, I've read that large numbers of Russians are now taking vacations abroad.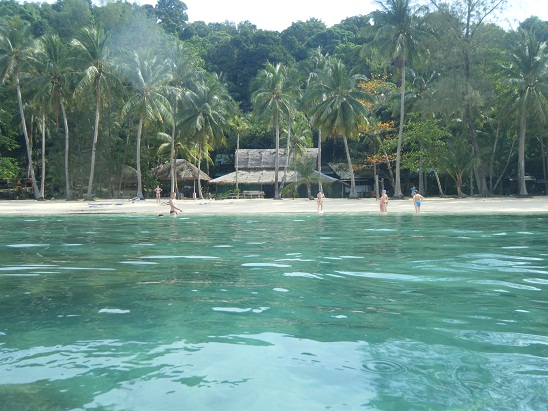 Still lots of mosquitos as night here so you really need to use the mosquito net. Lots of small lizards to eat the mosquitos. Lots of termites around, some of the boards on my hut are in poor shape. There used to be a lady doing massages but I see that they're no longer offered.
Today (Wednesday) we had bad wind and the sea was very rough so there were few daytrippers. The weather improved in the afternoon so I went snorkeling. Most of the day I sat around and read books. Snorkelling here is as nice as ever, lots of variety on the reef. 7 years ago I saw an Octopus, I wonder if he's still here? Tomorrow at low time I'm going to take more photos.
Its now Thurday morning and the wind is worse than ever, making for very rough seas. There's a sunbathing platform built over the ocean, when I was here 7 years ago it had been demolished by a storm, its easy to see why because this is still the season for good weather. Last night, the waves uprooted a bench near the shore. I'm wearing 2 shirts this morning to keep warm.
A boatload of Russian tourists arrived aroud 9:30am, the weather is still horribly windy so they don't look like they're havng much fun. I see another boat coming to dock also.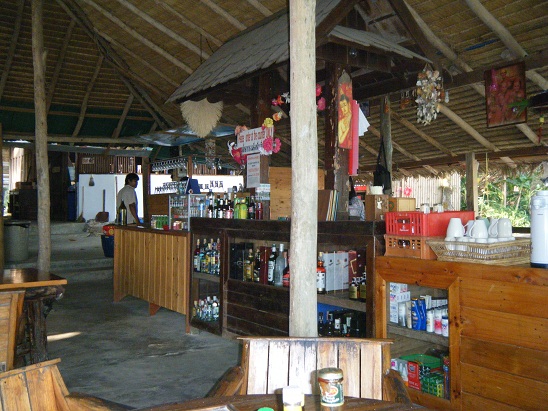 While snorkelling the next day I saw a manta ray, two small spiny lobsters and a crab. This stuff is hard to spot as they hide as soon as you come near. They have the "attack" fish here also, but they're not as aggressive and they're coloured black. With one exception - one fish was very agressive and I think that he nipped me on the knee when I swam by him.
Still no Internet at Ko Wai Paradise so I went to the adjoining resort to send this message but alas they no longer offer satellite Internet so the message will have to wait until I return to the mainland. The weather gradually returned to normal and today (Saturday) was a great day. Unfortunatly I must leave on Sunday and I've booked a spot on the morning speedboat. When I return to the mainland I plan to stay at POP Guest House in Trat for 1 night and head for Cambodia the next morning.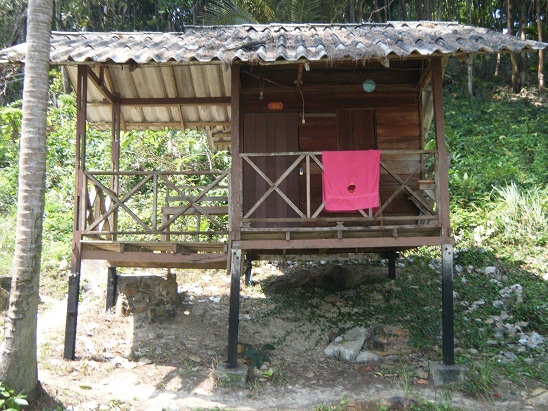 My 5 night stay cost me 4,840 BHT ($161.35) which includes the cost of the speedboat (450 BHT) back to the mainland. The rent on my cabin was only 250 BHT ($8.35). This averages out to $32.25 per day for everything.