Meccano, a Short History

  _________________________________________________________
 (_O__O__O__O__O__O__O__O__MECCANO__O__O__O__O__O__O__O__O_)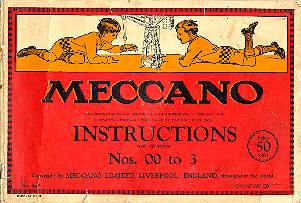 "Meccanics Made Easy", the forerunner of Meccano, was patented in 1901 by Frank Hornby of Liverpool, England. He teamed up with a Mr. Elliott, who provided much of the required venture capital, and started producing sets. These early sets contained about 15 different pieces and were made of tinplate. The basic concept of using perforated strips and plates that were fastened together with nuts and bolts was very novel and the company steadily grew.
Over the next few years, a number of different sized sets were introduced and new pieces were introduced, for example brass gears. During this era, many new model competitions were sponsored by the company. The prize money was quite substantial for the time and a lot of interest was generated. Some of the prize winning early models included Ferris Wheels, Looms (that wove cloth), the Meccanograph and a Motor Car Chassis. In later years, the YMCA in Edmonton held Meccano model competitions.
In 1907, a new factory was established on Duke Street. The company invested in new equipment and had several employees. A few years later they moved again to larger quarters on West Derby Road. In 1908, Frank Hornby bought out his partner and changed the name of his building sets and company name to "Meccano". Meccano in this era was mostly nickel plate and brass. The company exported to many countries, e.g. Canada, Austrailia, New Zealand, India and other parts of the British Commonwealth. In later years, Meccano was manufactured in other countries as well, e.g. France, Spain and Argentina. For a few years, there was a Meccano factory in New Jersey, U.S.A. but this was eventually closed down. The Gilbert Toy Company's "Erector" sets captured much of the U.S.A. market.
In 1914, a large new factory was constructed at Binns Road in Liverpool. This was to become their home for 66 years. Meccano production was not interrupted by the 1st World War. The first issue of "Meccano Magazine" was published in 1923.
In 1926, "Meccano in Colours" was introduced. The colours of Meccano pieces were changed to red, green and brass. Nickel plate Meccano continued to be available.
In 1934, the colours were changed again, at least in Great Britain. Strips were now finished in gold paint and flat plates were finished in dark blue with gold cross-hatching. Sets with this finish were not normally exported however, the red & green sets were still produced for the export market (e.g. Canada).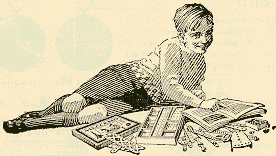 Frank Hornby was elected M.P. in 1931. In 1936, Frank Hornby died, a very rich man - his company was taken over by his relatives.
Meccano production was halted during the 2nd World War. The Meccano factory was used to produce war related materials. There was a further slowdown during the Korean War as metal was in short supply.
After the war, production slowly resumed, bit by bit. All new sets were once again produced in red, green & brass - the blue-gold colours were discontinued.
In 1964, another colour change took place. The pieces were changed to silver, yellow and black. Only 6 years later in 1970, black was replaced by blue and all of the sets were downgraded in size (e.g. they started calling a #4 set as a "#5 set").
Some specialty sets were produced over the years as well. For example there were Aeroplane Constructor sets, Motor Car Constructor sets, Electrical sets, Army sets, Combat sets, Highway Vehicle sets, Crane sets and the "Meccanoids". Meccano Ltd. also produced other toys, e.g. Hornby Trains.
For the past 40 years, the set contents were relatively unchanged. In 1978, a drastic change in set contents was made and another colour change was made, this time to dark blue, yellow and brass.
However, the company's fortunes had taken a beating over the last few years. In November 1979, Meccano Ltd. went suddenly into receivership. This was a shock to everyone, including the employees. They staged a sit-in strike in a last ditch effort to keep the company going. However in the end they gave up and the Binn's Road factory was emptied and demolished in 1980.
Meccano continues to be available worldwide. Their original French subsiduary, now an independantly owned company, still produces Meccano from a factory in France. Around 1990, Meccano France purchased the rights to the "Erector" trademark in the U.S.A. and started selling Meccano sets marked "Erector Meccano" in the U.S.A..
See also Meccano France's Limited Edition Set for the 100th Anniversary!

  _________________________________________________________
 (_O__O__O__O__O__O__O__O__MECCANO__O__O__O__O__O__O__O__O_)


Copyright 1996-2015 by David Williams.