Meccano Magazine

  _________________________________________________________
 (_O__O__O__O__O__O__O__O__MECCANO__O__O__O__O__O__O__O__O_)

Meccano Magazine was published from 1916 to 1981. It was a general purpose boy's magazine with articles on all sorts of subjects. For example, the March 1936 issue covered topics such as: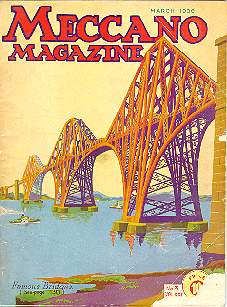 The Passing of King George V
Recording and Predicting Tides
How a Great Ship is Launched
Locomotive Development on French Railways
Engineering News
Air News
Heston Airport
Gravel Washing and Grading Plant
A Streamlined Ferry Boat
The Bendix Servo Brake
Railway News
How Railway Sleepers are Prepared
A High Speed Automatic Lathe
The "Bristol" Axial Engine
Traffic Signals in Minature
With the Model Builders (a regular feature, later renamed as "Among the Model Builders")
Motor Car Transmission Mechanism
In Search of New Models
Meccano Model-Building Contest Results
The Meccano Guild
The Development of Realistic Layouts
The Mechanical Handling of Freight Traffic
How to Get More Fun from Hornby Trains
Stamp Collecting
Competition Corner
Fireside Fun
Later issues included a regular column entitled "Spanner" which gave advice about Meccano model building. Meccano Ltd. advertised it's products in this magazine but it also accepted ads from other toy manufacturers.
The magazine was printed in black and white; the covers had interesting coloured illustrations of engineering topics. Pictured below are covers from select issues.

January 1937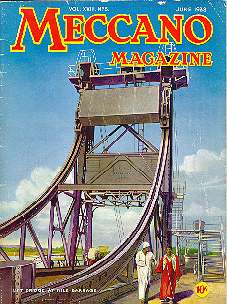 June 1938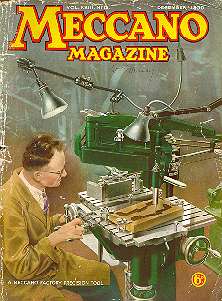 December 1938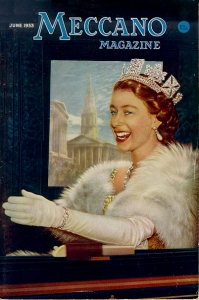 June 1953 - Queen Elizabeth's Coronation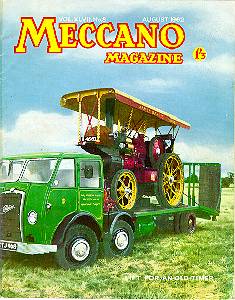 August 1962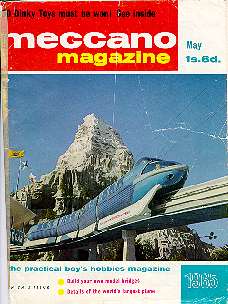 May 1965
---

See also Meccano - Miscelaneous Links for links to websites with Meccano Instruction Booklets, Magazines and Brochures online.

  _________________________________________________________
 (_O__O__O__O__O__O__O__O__MECCANO__O__O__O__O__O__O__O__O_)


Copyright 1996-2005 by David Williams.