David Williams' Home Page
http://meccano.crabdance.com/David.Williams/
I reside in Edmonton, Alberta, CANADA and my interests include:
Meccano - see my creation, the Meccano Home Page (MeccanoNet) - Canada.
Black Humour - see The Gashlycrumb Tinies and the Edward Gorey House.
Enjoy a Random Joke [rec.humor.funny].
Bicycling - see the Edmonton Bicycle and Touring Club (EBTC).
Computing
Music, all sorts of odd stuff, especially music videos. Among my favourite bands are K C and the Sunshine Band, DEVO, Aqua, Vengaboys, Men Without Hats, Was (Not Was), The Cars, Amazulu, Earth, Wind and Fire, Boney M, Billy Joel, Eurythmics, Katy Perry, Walk off the Earth, Sam and the Womp, Arcade Fire, and many, many more. A great Zydeco song is Sweet Joline by Wayne Toups.
From past travels in Thailand, Mekhong Whiskey!
Travelling, particularly in Asia. I've been to Japan, China, South Korea, Vietnam, Laos, Cambodia, Thailand, Malaysia, Indonesia, Philippines, Myanmar (Burma), India, Nepal, Pakistan & Bangladesh. In America, I've been to USA, Mexico, Guatamala, Honduras, Nicaragua, Costa Rica & Panama.
These are some travel items that I've collected over the years:
These are some miscellaneous travel links: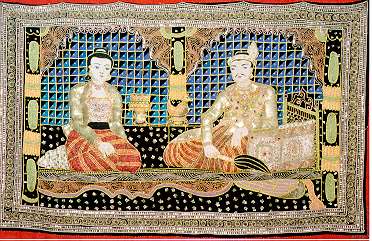 On the right is a wall hanging from Burma (Myanmar) purchased in 1985.
David Williams


Last updated: January 1, 2022